Classical Homeschooling
Because it uses real, living books and hands-on experimentation rather than relying on textbooks and canned presentations, classical education is a matter of exploration, of reading, thinking, and talking, and of discovery - not of rote memorization and regurgitation. ~ The Well-Trained Mind Blog
Classical homeschooling involves teaching based on the three stages of learning: the Grammar stage, the Logic stage, and the Rhetoric stage. The Grammar stage involves learning facts, memorization, and knowledge gathering. The Logic stage is when reasoning and logic begin to be applied to the knowledge. The Rhetoric stage completes the Trivium and is when the student learns the skills of wisdom and judgment.
Suggested Reading: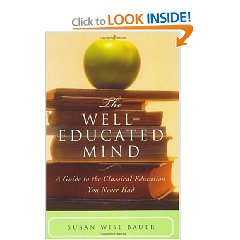 The Well-Educated Mind: A Guide to the Classical Education You Never Had
by
Susan Wise Bauer
From amazon.com
Based on the same classical method as Bauer's terrifically successful The Well-Trained Mind, The Well-Educated Mind provides not only a thorough grounding in the classics but also a widely applicable foundation for self-education.
Read more at amazon.com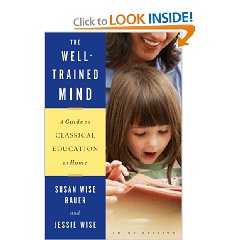 The Well-Trained Mind: A Guide to Classical Education at Home
by
Susan Wise Bauer
From amazon.com
This educational bestseller has dominated its field for the last decade, sparking a homeschooling movement that has only continued to grow. It will instruct you, step by step, on how to give your child an academically rigorous, comprehensive education from preschool through high school. Two veteran home educators outline the classical pattern of education—the trivium—which organizes learning around the maturing capacity of the child's mind. With this model, you will be able to instruct your child in all levels of reading, writing, history, geography, mathematics, science, foreign languages, rhetoric, logic, art, and music, regardless of your own aptitude in those subjects.
Read more at amazon.com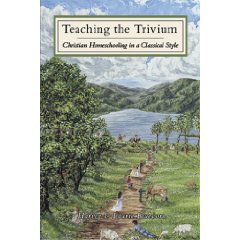 Teaching the Trivium
by
Harvey and Laurie Bluedorn
From amazon.com
How can you give your children the tools they need to teach themselves? Long ago students were first taught how to learn. Today, students are taught an encyclopedia of subjects trivia but they are not taught the basic skills of learning: to discover, to reason, and to apply. They are not taught the trivium.Can you homeschool in a classical style without compromising your Christian principles? Classical Education must be sifted through the critical screen of the Scriptures to be transformed into a Biblical model.Can you homeschool in a classical style without buckling under the burden? There is only so much time in the day. For every subject, and for every age, we have a workable plan which leaves you free to breathe. You can continue to use other approaches to homeschooling within the framework of classical education. Is homeschooling about renewing family vision? The family is at the heart of God s plan for restoring Christian culture. Homeschooling is not alternative education. Homeschooling was here first. We want to restore Biblical order to education.
Read more at amazon.com
Classical homeschooling resources from other websites:
Classical Conversations
The purpose of Classical Conversations is "to lead the home-centered education movement by equipping parents and students with the classical tools of learning needed to discover the order and beauty of God's creation and to inspire others to do the same... Classical Conversations' programs model the three stages of classical learning—grammar, dialectic, and rhetoric. Using ageappropriate methods, children are taught the tools for studying any subject... Across the United States, Classical Conversations Communities exist to complement your home-centered education and connect you with like-minded families. Each community is facilitated by a trained parent-director, and classes are led by trained parent-tutors who model the classical tools of learning. Tutors have the privilege of encouraging students toward becoming lifelong learners while also encouraging parents in the classical teaching of their children."
Classical Christian Homeschooling
Classical education and its practical application in grades K-12 for homeschooling families.
The Classical Scholar
Diane Lockman created this website as an encouragement to parents homeschooling with the classical method. She now homeschools her high school students whom she has homeschooled for nine years. The site reflects Diane's Christian faith and includes such topics as: Designing Curriculum, Developing Character, Equipping Parents, Supervising High School, Teaching Reading Skills, Teaching Speaking Skills and Teaching Thinking Skills.
Trivium Pursuit
Havery and Laurie Bluedorn's extensive Classical Homeschooling website
Insight into Classical Homeschooling:
Why We Educate at Home (A Discussion of the Classical Education Method)
My husband and I have no qualms about our style of parenting, which is so tied up in home education. He grew up beside his father in a greenhouse. Our first apartment at 500 sq ft, had 31 houseplants in it. He now works as a landscape designer. So we understand this analogy: Children are like little plants. You take the seed and put it in a little cup of the best topsoil. You give it lots of light. You gently sprinkle it with drops of water so the delicate leaves aren't broken. When it gets a decent root system, you transplant it to a bigger pot. You protect it from the wind and the hottest sun. You bring it in when there's a freeze. You don't put it out where the dog will trample it or a deer will eat the buds. When it's well-established, and the season is right, you can transplant it finally to its place outside your home. Then it will do well on its own in the downpours and coldest winters. Read More »

Definition For Classical Education
Those who incorporate the reading of ancient classical authors, and declare this to be of the very essence of any education which could be styled as Classical, are actually referring to what might better be called a Classical Humanist Education. The Applied Trivium, on the other hand, is more interested in teaching by the same educational principles and toward the same educational goals as the ancients than in teaching the same literature as the ancients. Read More »

Many homeschoolers who choose the Classical Method find The Story of the World and its accompanying activity books by Susan Wise Bauer to be invaluable:
Ancient Times
The Story of the World: History for the Classical Child; Volume 1: Ancient Times
The Story of the World: Activity Book One: Ancient Times
The Middle Ages
The Story of the World: History for the Classical Child, Volume 2: The Middle Ages
The Story of the World: Activity Book Two: The Middle Ages
Early Modern Times
The Story of the World: History for the Classical Child, Volume 3: Early Modern Times
The Story of the World Activity Book Three: Early Modern Times
From Victoria's Empire to the End of the USSR
The Story of the World: History for the Classical Child, Volume 4: The Modern Age: From Victoria's Empire to the End of the USSR
The Story of the World Activity Book Four: The Modern Age: From Victoria's Empire to the End of the USSR