All about West Virginia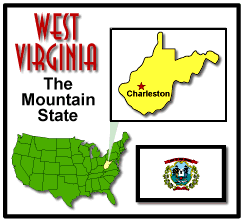 Websites for studying about West Virginia
A to Z Kids Stuff - West Virginia
Fun Educational Activities
Kids Konnect.com - West Virginia
Webpages created by a retired teacher to help kid safely learn on the internet about West Virginia.
West Virginia Fun Facts
U.S. Census Bureau
TheUS50.com - West Virginia
Information about West Virginia. State study guides have been added to the Fast Facts pages
The 50 States - West Virginia
From TeachersFirst. A comprehensive resource on West Virginia
Mr. Donn.org - West Virginia
Mr. Donn has been online for as long as I can remember and he has one of the largest collections of social studies resources available. This is his collection of West Virginia resources.
Class Brain.com - West Virginia
From Class Brain.com. The site offers everything you would need to do a great report on the state of West Virginia.
Explore the States - West Virginia
From the Library of Congress. Games and stories of America's past.
50 States.com - West Virginia
Facts & Trivia about West Virginia
RoadsideAmerica.com - West Virginia
Unique tourist attractions and landmarks in West Virginia
More websites for studying about West Virginia...
Local homeschooling groups, classes, and events for West Virginia
West Virginia Home Educators Association Local Support Groups

WV Homeschooling Legislative List

West Virginia Home Educator's Association announce group

More West Virginia homeschooling groups, classes, and events ...
State Facts
West Virginia was the 35th state to join the union. It became a state on June 20, 1863.
Capital - Charleston
Abbreviation - WV
Nickname - Mountain State
Motto - "Montani semper liberi" - Mountaineers are always free
Song - West Virginia My Home, The West Virginia Hills, This Is My West Virginia
Bird - Cardinal
Flower - Rhododendron
Insect -
Area - approximately 24,231 square miles
West Virginia field trips
Harpers Ferry National Historical Park
Harpers Ferry is best known for its role in the Civil War as the location of John Brown's raid on the Armory in 1859. The website offers many links to educate history buffs on the people and stories involved with that time in American history.

Clay Center
We invite you to discover a world of Music, Theater, Art and Science. From exciting performances to family fun days, you're sure to find the Clay Center to be a priceless experience that will cause you to say, "WOW!" The mission is to inspire creativity, learning and wonder through experiences in the arts & sciences for all people of West Virginia and the region.

Huntington Museum of Art
Visitors enjoy the beauty of glass, particularly that from the Ohio Valley; the wisdom and whimsy of Appalachian folk art; the functional artistry of American furniture and firearms; the serenity of 19th and 20th century American and European paintings; and the intricacy of Islamic prayer rugs. They can ponder the exotic mysteries of Middle Eastern arts; the exquisite acrobatics of sculptures by Calder and Rickey; and the marvels of nature's own canvas.

Museums of Oglebay Institute
Oglebay Institute operates six facilities in the Wheeling area: The Schrader Environmental Education Center, the Mansion Museum and the Glass Museum in Oglebay Resort; the Stifel Fine Arts Center and School of Dance on National Road; and Towngate Theatre and Cinema on Market Street. The Institute also operates Terra Alta Mountain Camp in Terra Alta, West Virginia.

Randolph County Community Arts Center
We provide a home for local and visiting artists across a wide variety of media. From exhibits to performances to art education, the Center is supported by the community it serves.

Jones-Imboden Raid
Reenactment of the Jones-Imboden Raid in Rowlesburg, WV, when General W.E. "Grumble" Jones led an attack on the town to destroy the vital B & O railroad bridge and the famous Tray Run Viaduct. Union forces under the command of General Charles Hill defended the town with 250 soldiers and townsmen. Union forces were outnumbered 1500 to 250 but were successful in turning back "Jones' Raiders" and preserving "Lincoln's Lifeline". Union and Confederate camps will be represented and a weekend full of activities will be presented, along with reenactments of the Battle of Greenland Gap and the Battle of Rowlesburg. Check website for details of event held in May.

Cabwaylingo State Forest
Cabwaylingo State Forest is located on 8,123 heavily forested acres in the heart of Southern West Virginia in Wayne County. Built in the 1930's, the forest gets its unique name from the four surrounding counties from which it serves: CABell, WAYne, LINcoln, MinGO.

Thanks to graphicmaps.com for the state graphics